| | |
| --- | --- |
| | Flyball Box Designs |
---
The following box styles are available
---
Al Champlain Curved Front
This box was introduced by Al Champlain of the Happy Hurdlers. They were first used on October, 1995 at Cedar Rapids, Iowa.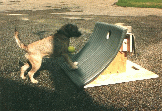 More photos of Al's Original Curve

Al has been busy tweaking the design and is now producing the Sprig-Curve box. It was first used in Cedar Rapids, Iowa at the Hawkeye Hustler's tournament in September, 1996. It is a direct descendent of the Original Al Curved box but the curve is deeper and steeper and the ball hole is lower.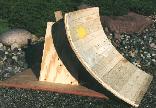 More photos of the Sprig-Curve
Mo van Mokum's team from the Netherlands has built boxes from Al's plans with a few variations. The box was built by Mo's teammate an co-trainer Ruud Elsgeest.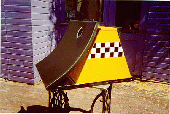 More Dutch photos
---
BFA Curved Front
These boxes were introduced to the British Flyball Association (BFA), in March, 1995 by the Jets team. They are made of polymar and metal with three holes and feature a slow sleek curved front to improve turning.

Nigel Bouckley reports that within two weeks, most BFA teams were using this style box with outstanding results.

More photos
---
Belgian Curved
| | |
| --- | --- |
| | Patrick Belis from the Sloeber Flyball Team in Hoboken, Belgium develops the Belgian Curved Box (aka Belgian Boomerang Box). It is easily recognized as being based on the British Boomerang Box. |
---
Springback
The Springback box is designed and built by Jim Sova of the Hawkeye Hustlers. It's main feature differentiating it from other boxes is the spring mechanism used to reduce stress and return some energy for the turn.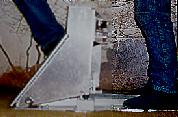 The Springback Box Page
---
Vertical Front
These are probably the most popular style of box in use. It's main features that the ball comes out in a flatter trajectory and the ball is sitting right out front.

More photos
---
K9 Kannon

More Photos
---
Quick Draw
| | |
| --- | --- |
| | The Quick Draw Flyball Box provided an extremely large surface for the dog to run on and reminds many people of a putting green. |
---
Wedge
| | |
| --- | --- |
| | The wedge style sports a large front pedal. For most dogs, it takes the "fly" out of flyball. |
---
Sure Shot
The Sure Shot box designed by Mark Jacobson was the first totally enclosed Flyball box.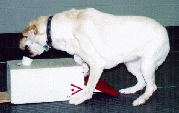 More Photos
---
Catapault
This box is the granddaddy of them all! The original Flyball boxes were styled like a catapault with the ball placed in cup at the end of a long arm.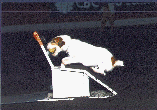 More photos
---
Kennel Club Monstrosity
---

| | |
| --- | --- |
| | The British Flyball Association has been in conflict with the Kennel Club over Flyball. The Kennel Club has devised their own set of rules for Flyball and has manadated use of boxes like this. These boxes require the dog to jump up to catch the ball. This is generally considered unsafe and likely to cause injury. |

---
Don't ever use a box like this!

More Photos
---
Copyright © 1995-1999 Kathryn Hogg, kjh@flyballdogs.com
Last Modified: Sep 29, 1999