| | |
| --- | --- |
| | Logo Contest |
---

The Flyball Home Page is in need of a logo. I know myself too well to even think that I have any kind of artistic talent. For the past several years I have graciously borrowed Kathy Ubben's T-shirt design (left) as the unoffical Flyball Home Page logo.
It is my great pleasure to allow members of the Flyball community to contribute to the pleasurable experience of contributing to the Flyball Home Page. With that in mind, I am proud to announce the Design Me a Logo Contest. It's quite simple: use your imagination and create a logo. Then email it to me (kjh@flyballdogs.com) and I will add it to the entries below! Be creative! In the usual vein of running a loose ship, the contest will last a few weeks or whenever it feels like a good time to end it.
And the winner is......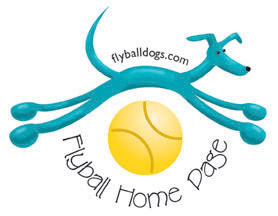 by Debbie Hyvonen
Other Entries


by Nancy Whittington

by Alyssia

by David Westra

by Jenn Davis

by Jenn Davis

by Noreen Parrell-Kokinda

by Noreen Parrell-Kokinda

by Debbie Hyvonen

by Debbie Hyvonen

by Corey Stone

by Corey Stone

by Sheena Gibbs

by Debi Lofgren

by Cindy Telly

by Cindy Telly

by Andy vonSeggen

by Sarah Mercer (age 12)
When you"re a flyball dog, the
world is just one big tennis ball
---
Copyright&nbsp© 2001 Kathryn Hogg, kjh@flyballdogs.com
Last Modified: Mar 28, 2001